I'm made from
99.5%
natural ingredients
I am
100%
MADE IN FRANCE
I'm made from
NO-WASTE 'UGLY' FRUIT,


within an

ANTI-WASTE approach
For breath that's so fresh, you just can't get enough
THEY LOVE ME!
I've been using it for over a week, I love the fresh taste. My teeth feel less sensitive
David C.
All about me
Fresh Kiss is an organic certified, protective toothpaste with organic grape extract and a naturally minty taste. It gently cleans your teeth and protects them from tartar, cavities, and dental plaque, while also maintaining the balance of your mouth.
Before we tell you what our toothpaste contains, let's talk about what it doesn't contain.
Our toothpaste doesn't contain sulphates, titanium dioxide, triclosan, fluorine, aluminium, PEG, parabens, or propylene glycol.
Why? These products are suspected of being harmful, and even dangerous for some, so we'd much rather remove them or replace them with active natural ingredients.
As a result, our formula is 99.5% natural, certified and inspected by the Cosmebio label, and guess what: your teeth will be just as clean, white, and protected from plaque and bacteria.
To do this, we use:
• Organic grape which strengthens teeth, fights against cavity buildup and is a natural antibacterial
• A touch of Zinc Citrate, known for slowing down tartar buildup, strengthening anti-plaque effects and protecting gums
• Natural mint enhanced by menthol for icy fresh breath, so you can kiss who you like, when you like!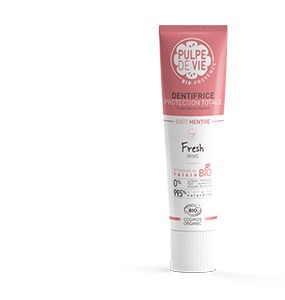 Trade secrets
To make a good Fresh Kiss you need…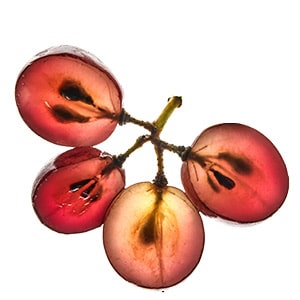 Organic

Grape:
Prevents gums from receding, strengthens gums, fights plaque, and is also a natural antibacterial.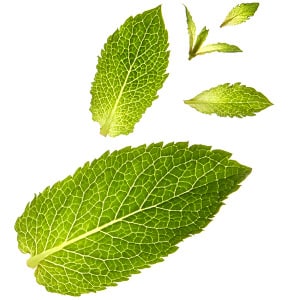 Organic

Mint :
Natural origins, guarantees fresh breath.
INCI Composition
Hydrogenated starch hydrolysate : hydrogenated starch hydrolysate, made from cornstarch, ensures that the toothpaste maintains its texture and doesn't dry out
Aqua (water) : water
Hydrated silica : Abrasive mineral agent, it cleans teeth and fights dental plaque.
Glycerine : from natural origins, it helps whiten teeth by preventing food and stains from sticking to them..
Zinc citrate : Fights against tartar and dental plaque
Vitis vinifera (grape) fruit water** : grape water, natural antibacterial, protects teeth
Aroma (flavor) : mint flavour from natural origins
Sodium cocoamphoacetate : An alternative to sulphates, derived from coconut oil which helps create a lather without the need for harmful chemicals. It is certified for use in organic products
Xanthan gum : A natural binder, it helps give the toothpaste its consistency
Levulinic acid : Stabilises the formula
Menthyl lactate : Derived from menthol and lactic acid, it provides freshness even more intense than menthol itself
Menthol : Contributes to extra-fresh breath
Sodium cocoyl glutamate : a surfactant from natural origins, it binds the formula's components together and also enables deposits on the teeth to be more easily removed.
Sodium levulinate : a natural mineral salt with antibacterial properties
Stevia rebaudiana extract : Natural stevia leaves, which soften the toothpaste's taste
Sodium chloride : salt
Sodium hydroxide : Regulates the formula's pH
Aloe barbadensis leaf juice powder : An antibacterial, it prevents the formation of dental plaque and protects gums
Raphanus sativus (radish) root extract** : Preservative from natural origins
Citric acid : Naturally slows down tartar buildup, purifies and whitens teeth (citric acid occurs naturally in citrus fruit, for example)
How to use me
Apply a hazelnut-sized amount to your toothbrush and brush your teeth vigorously for three minutes. While brushing, we strongly recommend not attempting to say antidisestablishmentarianism, intergovernmentalisation, or supercalifragilisticexpialidocious (we bet you've just tried to do it 😉)