I am made of
100%
of ingredients from natural origins,
I am
100%
MADE IN FRANCE
I am made from
DISCARDED FRUIT,


in a

NO-WASTE approach
Soft, fruity and full of vitamins like a glass of smoothie 🍹
THEY LOVE ME
The texture is crazy, a real crush!
Camille C.
I love that fruity smell, it's a change from what I usually use…
Zoé S.
All about me
A cleansing face gel made from no-waste ORGANIC white peach, with a fruity smoothie texture that changes into an onctuous foam with water.
It cleans and cleanses your skin in depth while respecting its balance and leaving it clean, moisturized and soft!
Forget all those annoying products: THE Cleanser is THE unavoidable basic dedicated to all skins that will revolutionize your evening routine with its super addictive citrus fragrance and its irresistible texture.
SIMPLE & CLEAN, IT ONLY KEEPS THE BEST:
• Some discarded ORGANIC white peach extract that nourishes the skin
• Some regenerating and antioxidant ORGANIC plum oil and ORGANIC prickly pear that strengthen the natural hydrolipidic film of the epidermis
• Some soothing aloe vera and some plant-based glycerin to moisturize
• Some soothing ORGANIC lemon balm water that softens your skin for a better everyday comfort
• A tube made of recycled milk bottles!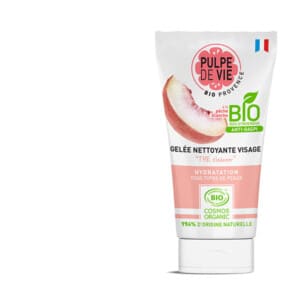 Trade secrets
To make a good THE Cleanser you will need…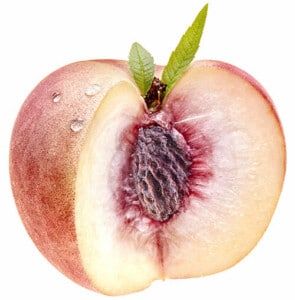 Some

ORGANIC

white peach:
Softening, it has regenerating and protective properties.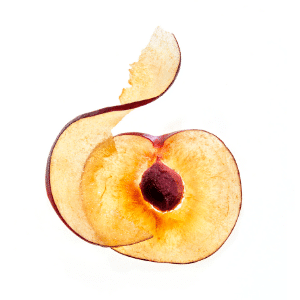 Some

ORGANIC

plum oil:

Renown for making the skin soft and supple, it gives radiance to your skin.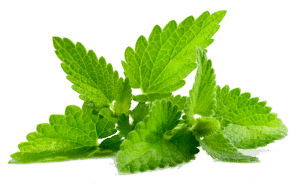 Some

ORGANIC

lemon balm water:

Soothing and softening, it soothes the most sensitive skins and tonifies them.
Some

ORGANIC

Aloe Vera:
With protective properties, moisturizes the skin and makes it silky.
99,4%

of total ingredients are from natural origins


19,7%

of total ingredients are from organic farming
Yuka :

93

/100
INCI Beauty :

18,3

/20
QuelCosmetic :

B

= Limited Risk
INCI Composition
Aqua (Water): Just water.
Glycerin: (or Glycerol, if you prefer. We leave it up to you). From vegetable fat, it moisturizes and protects the skin.
Coco-glucoside: From vegetable origin (coconut and sugar), enables foaming.
Decyl glucoside: Gentle cleanser obtained from sugar.
Melissa Officinalis Flower/Leaf/Stem Water: ORGANIC lemon balm water, appeases and soothes the skin.
Xanthan gum: Gel made from the fermentation of sugars by yeasts. It is used for the texture.
Calcium citrate: Stabilizes the pH.
Sodium lauroyl oat amino acids: Oat amino acids derivative, enables water and oil to mix.
Sodium gluconate: Sodium salt of gluconic acid, it stabilizes the product and protects the skin.
Sodium lactate: Sodium salt of lactic acid, made from the fermentation of sugar, stabilizes the pH and contributes to eliminate dead cells from the epidermis.
Betaine: From vegetable origin, moisturizes and protects the skin from irritations.
Parfum (fragrance): Fragrance from natural origin.
Citric acid: From lemon, balances the pH of the product and neutralizes the effects of limescale.
Benzyl alcohol: Preservative authorized by Ecocert.
Glyceryl Oleate: From natural origin (made from various natural oils and fats). Makes the skin soft and supple.
Prunus Domestica Seed Oil: ORGANIC plum pits oil, leaves the skin soft and silky, protects the epidermis.
Illite: Green clay, cleanses, purifies and soothes.
Potassium sorbate: Preservative used and allowed in ORGANIC products. Negligible amount.
Aloe Barbadensis Leaf Juice Powder: ORGANIC aloe leaf juice, moisturizes and soothes.
Prunus Persica (Peach) Fruit Extract: ORGANIC peach extract, moisturizes the skin.
Dehydroacetic acid: Biodegradable preservative used and allowed in ORGANIC products.
Phytic acid: Biomolecule from natural origin found in seeds. Antioxidant.
Benzoic acid: Preservative equivalent to gum benzoin used and allowed in ORGANIC products.
Leuconostoc/radish root ferment filtrate: Preservative 100% from natural origin made from radish ferment.
Tocopherol: It is a form of the vitamin E, antioxidant.
Hydrogenated Vegetable Glycerides Citrate: Fatty acid salt, softening agent.